How long can the ultrasonic cleaner be used continuously
During the use of the ultrasonic cleaning machine in a factory, some parts will be damaged. We need to do a good job in the maintenance of the ultrasonic cleaning machine. The maintenance of the ultrasonic cleaning machine must be done well. So you know how long the ultrasonic cleaning machine can be used continuously. Now let's introduce it and let's have a look.
Ultrasonic cleaning machine time – no more than 4 hours
If the continuous working time is too long: turn the ultrasonic adjusting knob to "0" position, and let the cooling fan continue to work. Heat the ultrasonic control cabinet continuously for at least 2 minutes when the ultrasonic cleaning is not started. For the cleaning machine that has been running for a long time, first set the power knob to zero before shutdown, and then use the fan to work for 3-6 minutes before shutdown to ensure that the heat inside the power supply is dissipated.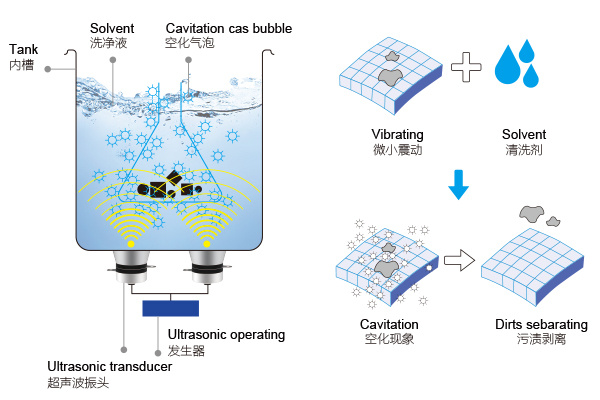 Time of ultrasonic cleaner – the cleaning solution should be precipitated, filtered or replaced in time
The ultrasonic generator generates high frequency and high voltage, which is transmitted to the transducer through the cable connecting line. The transducer and the vibrating plate together generate high frequency resonance. The ultrasonic cleaning machine is mainly composed of ultrasonic cleaning tank and ultrasonic generator. For ultrasonic cleaning tank, the bottom is equipped with ultrasonic transducer vibrator, which is made of solid, elastic and corrosion-resistant high-quality stainless steel; Thus, the solvent in the cleaning tank can be cleaned by ultrasonic wave. Do not adjust the power knob by hand. Make sure that the power knob is at the minimum position. Turn on the power supply to prevent the cleaning solution from immersing in the potentiometer. The high-power module of the ultrasonic cleaner is frequently started, which will affect the service life of the equipment.
The above is the introduction of how long the ultrasonic cleaner can be used continuously. After reading it, you should know something about it. When using the ultrasonic cleaner, you must pay attention to it. If it is not used correctly, it will cause damage to the ultrasonic cleaner. I hope the above information can help you. For more information, see Granbosonic.