Advantages and Applications of Commercial Small-Scale Ultrasonic Cleaners
Introduction: Commercial small-scale ultrasonic cleaners have become increasingly popular in various industries for their efficient and versatile cleaning capabilities. In this article, we will explore the advantages and applications of these compact and powerful ultrasonic cleaning devices.

Efficient Cleaning: Despite their compact size, commercial small-scale ultrasonic cleaners deliver powerful cleaning performance. The high-frequency ultrasonic waves generated by these devices create microscopic bubbles that implode, producing intense cleaning action known as cavitation. This process effectively removes dirt, grease, oil, and other contaminants from various surfaces, ensuring thorough cleaning results.

Gentle on Delicate Items: One notable advantage of small-scale ultrasonic cleaners is their ability to clean delicate items without causing damage. These cleaners provide adjustable cleaning settings, including variable frequency and power control, which allows users to customize the cleaning process according to the sensitivity of the item being cleaned. Delicate objects such as jewelry, watches, eyeglasses, and electronic components can be safely and effectively cleaned using these devices.

Time and Cost Savings: Small-scale ultrasonic cleaners offer significant time and cost savings compared to traditional cleaning methods. The ultrasonic cleaning process is faster and more efficient, reducing the time required to clean objects manually. Additionally, these cleaners often require less cleaning detergent or solvent, minimizing chemical consumption and associated costs.

Versatile Applications: Commercial small-scale ultrasonic cleaners find applications in various industries and settings. They are commonly used in jewelry stores, watch repair shops, optical laboratories, dental clinics, tattoo studios, and electronic repair facilities. These cleaners can effectively clean a wide range of items, including jewelry, watches, eyeglasses, dental instruments, tattoo equipment, small electronic components, and more.

User-Friendly Operation: Small-scale ultrasonic cleaners are designed for easy and intuitive operation. They typically feature user-friendly control panels with adjustable settings, digital timers, and automatic shut-off functions. The devices are compact, lightweight, and portable, making them convenient for both professional and personal use.

Applications of Commercial Small-Scale Ultrasonic Cleaners:
Jewelry and Watch Cleaning: These cleaners are widely used in jewelry stores and watch repair shops to clean and restore the luster of jewelry, watches, and precious stones. The gentle yet powerful cleaning action ensures thorough removal of dirt, oils, and tarnish from intricate surfaces and hard-to-reach areas.

Optical and Dental Equipment Cleaning: Small-scale ultrasonic cleaners are commonly employed in optical laboratories and dental clinics to clean eyeglasses, lenses, dental instruments, and prosthetics. The precise and efficient cleaning process helps maintain the hygiene and functionality of these essential items.

Tattoo Equipment Sterilization: Tattoo studios utilize small-scale ultrasonic cleaners to effectively clean and sterilize tattoo equipment such as needles, grips, and tips. The thorough cleaning process ensures proper hygiene and prevents cross-contamination between clients.

Electronics and Small Parts Cleaning: These ultrasonic cleaners are ideal for cleaning small electronic components, circuit boards, computer parts, and other delicate electronic devices. The gentle cleaning action removes contaminants without risking damage to sensitive electronic components.

Personal Use: Commercial small-scale ultrasonic cleaners are also popular for personal use. Individuals can utilize them to clean a variety of items, including jewelry, watches, glasses, razor blades, coins, and small household items.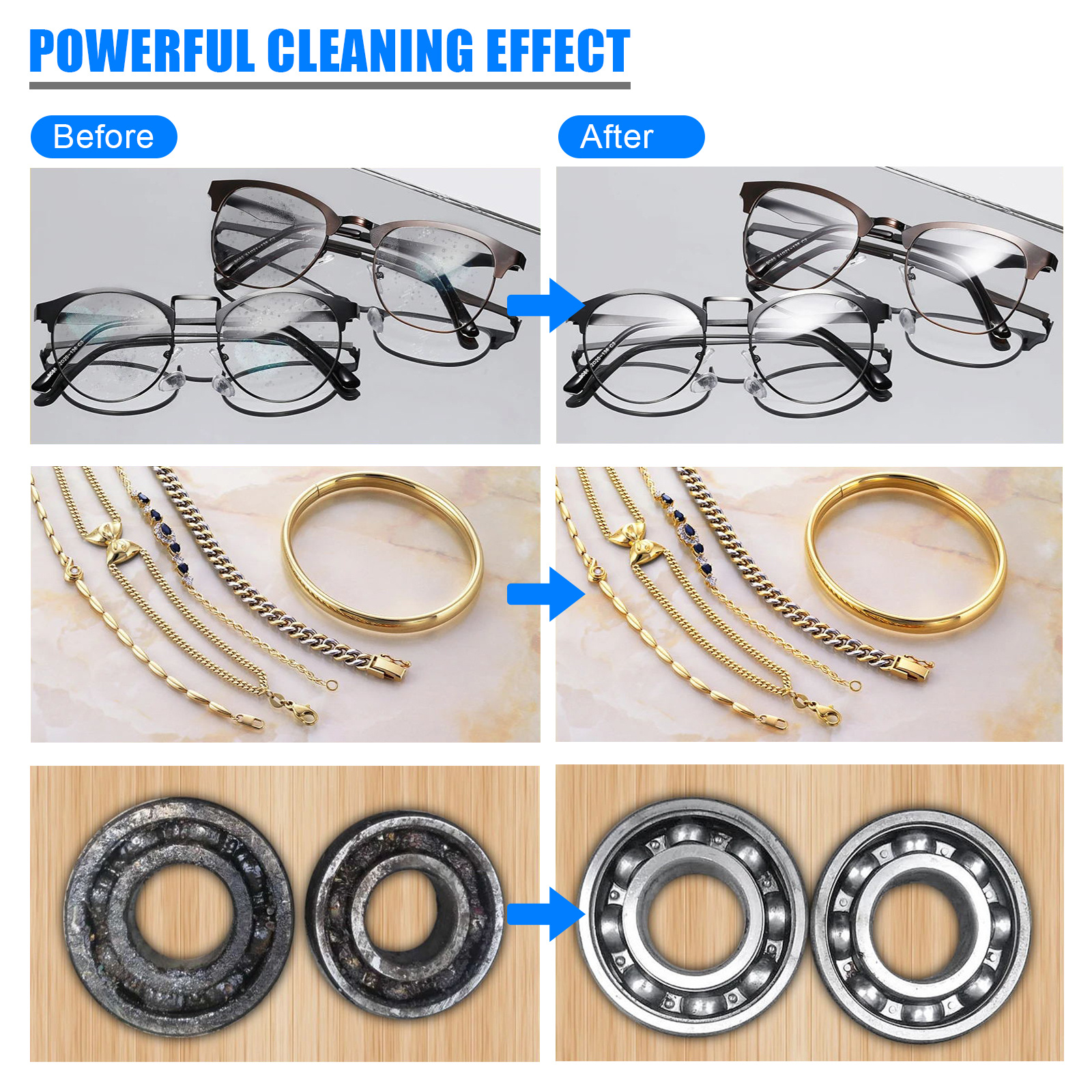 Conclusion: Commercial small-scale ultrasonic cleaners offer numerous advantages in terms of efficient cleaning, gentle treatment of delicate items, time and cost savings, versatile applications, and user-friendly operation. Their ability to deliver effective cleaning performance in compact and portable devices makes them invaluable in various industries and personal settings.